London is so photogenic, you've got to take advantage of it for your Instagram photos!
If there's one things I've learnt during all my trips to London, it's that you'll never be out of options when it comes to taking photos for your Instagram feed. It's like if London was made for it – its typical architecture, well-known monuments and symbols, and many areas reflecting various atmospheres are ideal.
Don't be mistaken, there are many other options than the clichés we all know and have in mind for photos in London. By this, I mean the red phone booths and mailboxes for example, which I also mention in this article, because it's a must, even though it's not the only option.
Speaking of options, let me finally tell you what and where are the best places in London to take photos for your Instagram feed.
1. Red mail box
It's a classic, but at least people will know exactly where you are! And, it's always nice to play around with the red mail box, use it as an "accessory" for your photo. And if you're lucky enough, a red bus will pass right behind you when taking the pics, giving your pic even more London vibes!
2. Public telephone booth
Another well-known classic! However, I wouldn't do like everyone else pretending to be on the phone while taking the photo. Standing in front or next to the booth is much nicer as it makes the photo less touristy.
3. Chinatown door
Let's get far from the clichés and talk about this beautiful door at the entrance of Chinatown. Although it doesn't look typical London, it still makes a beautiful photo scenery for your next Instagram pic!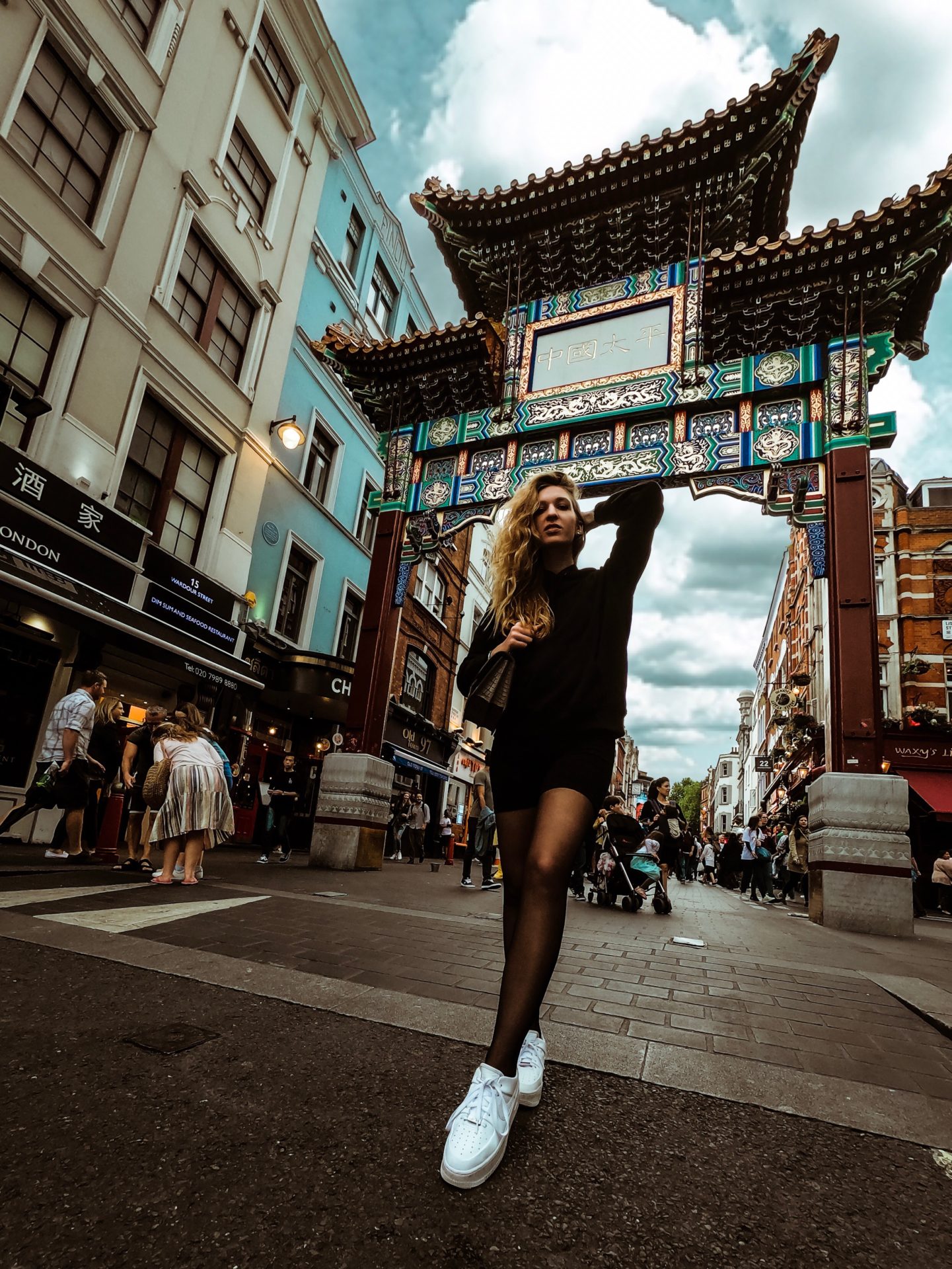 4. Tower Bridge
This is my favorite bridge in London. It's beautiful and therefore perfect for nice photos. You can take pics on the bridge like I did here, but also from further in order to have it in the background like we did for this article.
5. London Eye
Some would take photos from inside the London Eye, I prefer having it in the background as it is a big symbol of London.
6. Sky Gardens
For photos showing the view over London, the Sky Garden is just perfect! You can also easily get more lifestyle vibes by having breakfast there and taking photos of it like we did.
7. Picadilly Circus
This one is also a classic, but one that we somehow tend to forget. Picadilly and its board are great for photos with a urban vibe. Be careful not to take the photos too close from the board though, we tried and it's not as good as from far, trust us!
8. Regent Street
Many main streets are great for photos, because of the beautiful architecture of most of London's buildings, but I have a crush on Regent Street. The depth of it and beautiful buildings make it perfect for Instagram photos.
9. Saint Paul's Cathedral
As much as you can have photos showing the Saint Paul's Cathedral from the Millenium Bridge, I'd recommend going to the shopping mall that is right next to it. Go up on the terrasse to take your photos there. Otherwise, you can also sit on the escalator or take the lift and take your photos from there. In all cases, this will allow you to have a different view on Saint Paul's Cathedral than anyone else.
10. Big Ben
Big Ben is also a well-known photo location, which is amazing! It was being renovated while we were there, so we took pics of the other part of Westminster Abbey.
Although there are many options in London for Instagram photos, this is it for my favorite places! I also invite you to follow me on Instagram – as I live in London now, I publish many photos that can inspire your next London Instagram pics!
You can also have a look at the video below to discover other places in London that are more urban than the ones presented above.
Love, Pauline