This summer, the palm of the best shoes goes to Chanel! From the chunky sandals to the mules and "regular" sandals, Chanel has me hooked!
I'm so complicated when it comes to sandals… Indeed, I love statement shoes but always have a hard time finding THE pair of sandals that will look cute, yet fierce, in order to complete my looks. However, thanks to Chanel, its expertise and "special touch", the 2020 sandal trend is set and the days when I couldn't find what I was looking for are finally over (at least for the upcoming summer! 😉 ).
The chunky sandals
The chunky sandals, also known as "dad sandals", are without hesitation the ones I've been more impressed with. When it comes to this kind of sandal, I would often find them too sporty and not feminine at all. But there's a reason why Chanel is Chanel, and they successfully revived this style!
Although they exist in other material, I prefer this version where the straps are made out of padded lambskin. I think that's what makes the difference and makes them more elegant than any other dad shoes made out of fabric or smooth leather.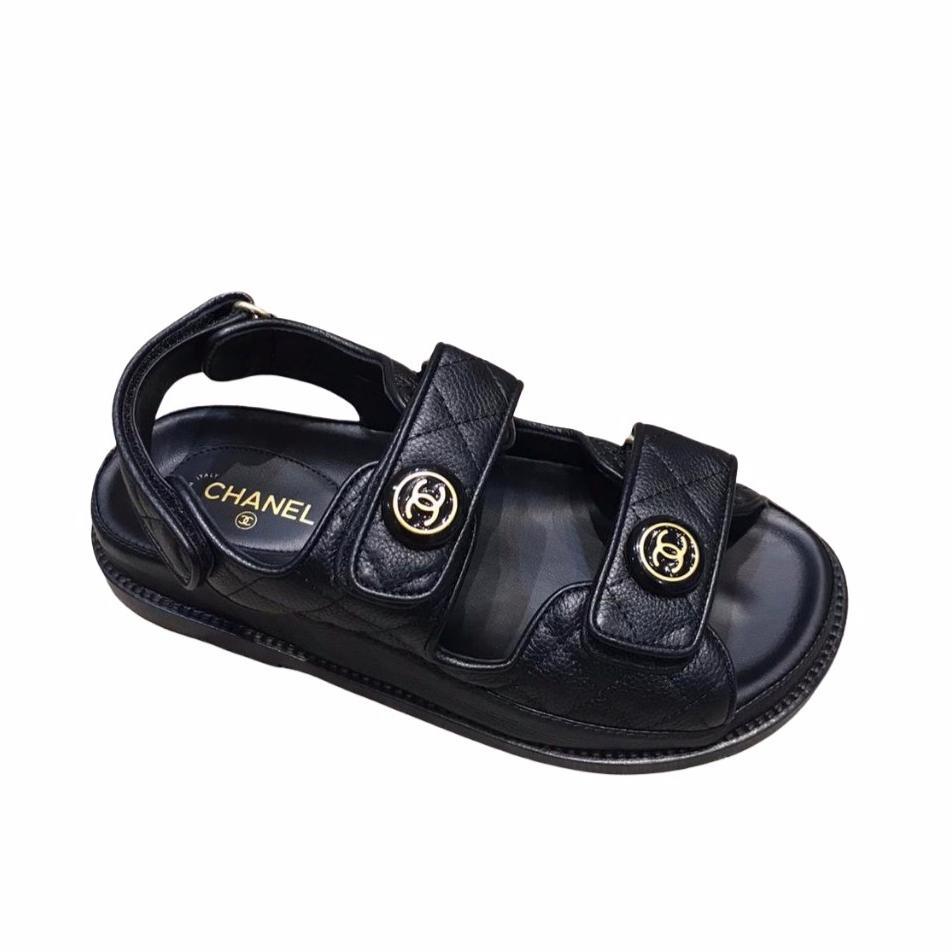 The mini platform sandals
I call them the "mini platforms", however they look like they've been inspired by the dad sandals. The difference is that part of the straps are made out of cord, which makes them less sporty than the ones above.
With its small platform in cork, the cord and padded lambskin straps, they're the statement sandals to achieve a rock look.
The mules
Do these look familiar? Mmmm… I'm sure they remind you of the infamous Adilette shoes, don't they? And, honestly, I wouldn't be surprised they've been inspired by it.
The difference is that, just like always, Chanel mastered the art of making them look fashion and pretty, by adding gorgeous pearl details on top of the strap.
The classic sandals
These are probably the most common type of sandals out of the three I'm presenting you, and also the ones that fit most people's style.
They are obviously "simpler" (if I may say it this way) than the other ones, but still have this little special something brought by the suede cords and the cute shoelace knot.
Now that you know more about the trendiest sandals of summer 2020, you can either run to the closest Chanel store hoping they're not already sold out, or have a look at the lookalike sandals I gathered for you right below!
Oh and before you start shopping, tell me in the comments which pair is your fav! 😉
Love, Pauline