It happened!!! I finally found the perfect recipe and technique to obtain an açaí bowl base just like I love it: thick, tasty and dairy free.
I discovered the infamous açaí bowl last year in London, after having heard and seen about it from about 10930893 people haha. – Is it also like this that you discovered it?
I would therefore consider myself an açaí newbie, but let me tell you that it didn't take me long to figure out the way I love eating it: thick, creamy, not too cold and tasty.
Luckily, after many tries, I eventually found out how to obtain a delicious thick base. The secret lies in the ingredients and way to make it. Check below!
What you'll need (1 portion)
Ingredients for the base
100g frozen unsweetened açaí puree
50g frozen berry mix
60g frozen banana
15ml unsweetened almond milk
10g smooth peanut butter
15g maple syrup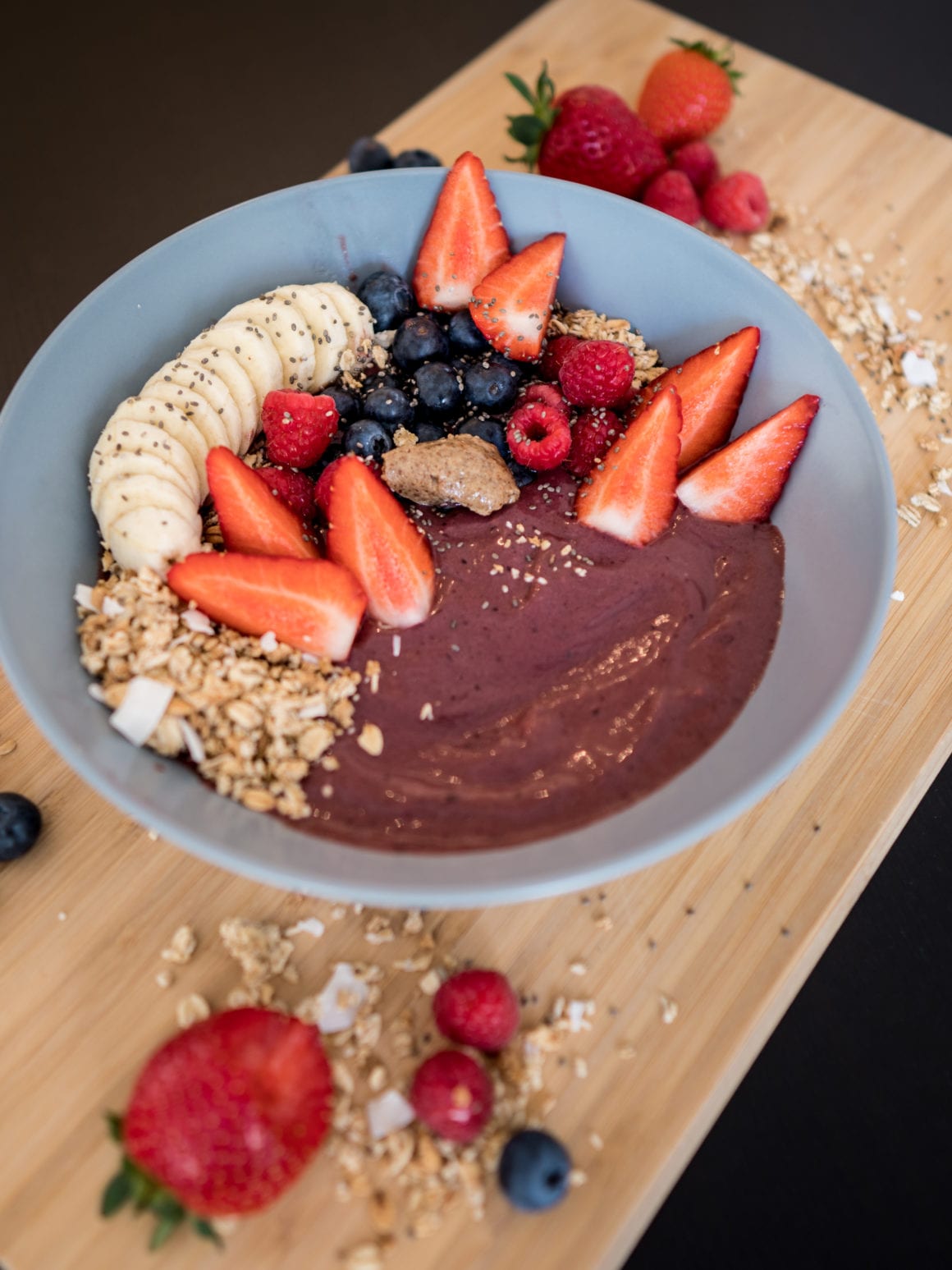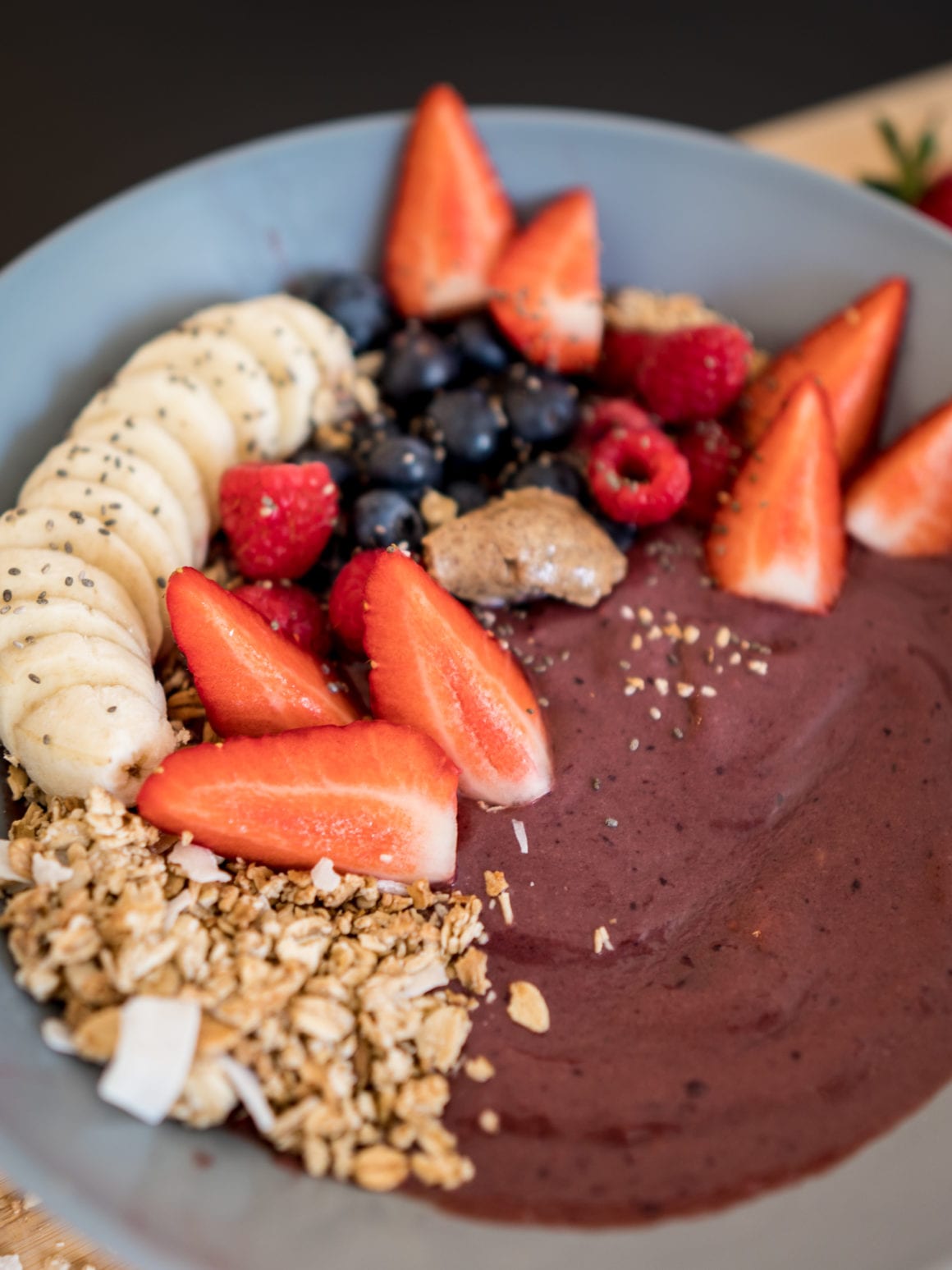 Ingredients for the toppings
20g granola
1/2 banana
30g blueberries
20g raspberries
3 strawberries
chia seeds
coconut flakes
almond butter
How to make it
Take the açaí puree, frozen berry mix and banana out of the freezer
Let them defrost for 7-10 minutes max, it should still be rather frozen
During these 10 minutes, get all the toppings ready so that you can put them on top right after the base is mixed
Put all the ingredients for the base in a blender
Mix the whole until it's smooth, yet still frosty and not liquid
Poor in a bowl and add the toppings
Eat before it melts 😉

A few tips
I've never tried to use açaí powder, but if that's what you have, I guess I'd just add 50g more frozen fruits (total of 100g) and, obviously, forget about the 100g of açaí puree.
Don't add the maple syrup if you use sweetened puree
Put some granola at the bottom of your bowl so that the açaí doesn't melt as quickly as if it was poured directly on the temperate bowl
If the frozen ingredients have defrosted too much and the base ends up too liquid, put it back in the freezer for about 5 minutes once it's mixed
I told you the way I love my açaí, but you can obviously add any other topping you like
Eat your açaí without mixing it with your spoon, just dip it in and take a scoop. You will appreciate the taste of it even more!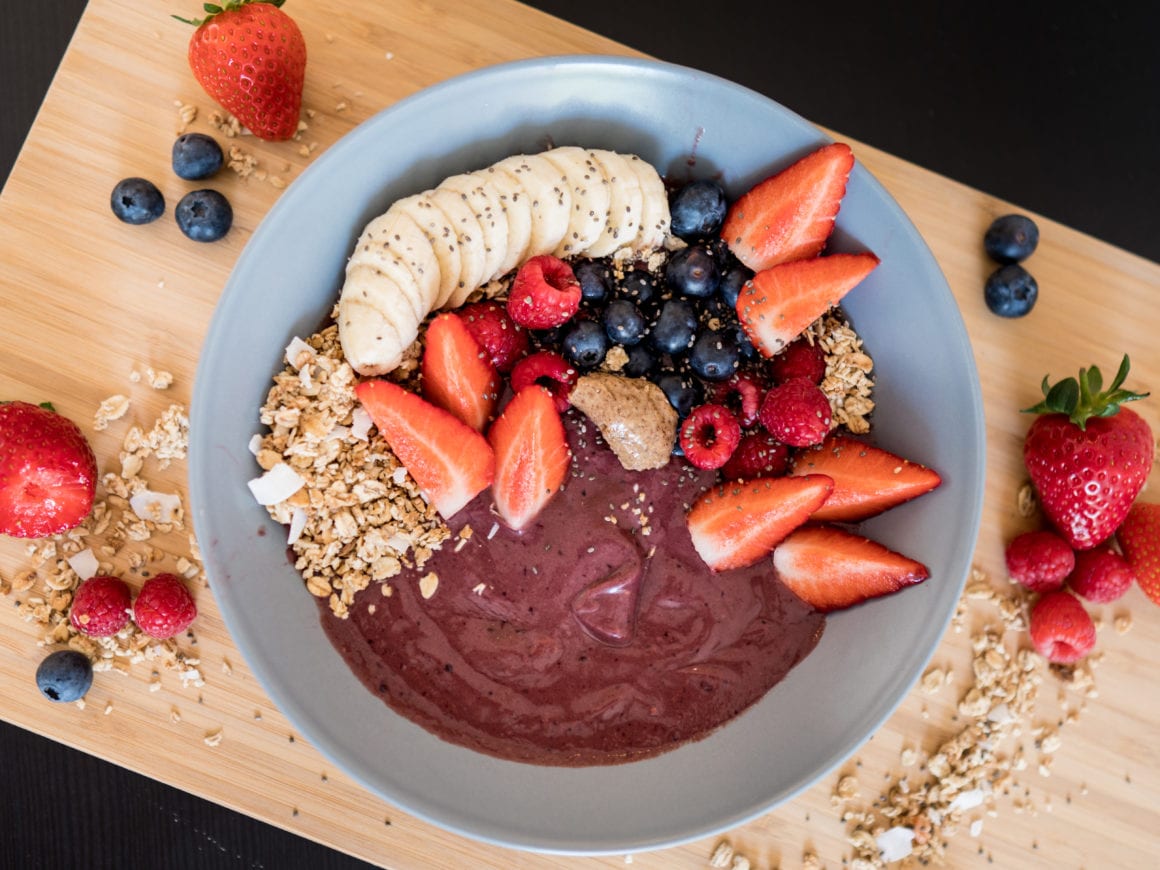 Bowl & Cutting board – IKEA
There you have it! To me, it's the best way to eat an açaí bowl – as I already said, I like when the base is thick and not too liquid (I don't know why, but I feel like it tastes better this way), and I also like it when there's not too many berries on top. I indeed used to put a lot on, but I actually think it prevents from really tasting the açaí and enjoying its texture. We're obviously all different, so feel free to adapt the recipe according to your tastes. 😉
Tell me if you try this recipe, I'd love to see your results.
Love, Pauline