So many things to discover in so little time! But we managed to make the most of our 3 days in Ubud with a very loaded program. 
The truth is that it was short. We would have loved to spend another day in Ubud, but since it wasn't planned this way, we did the most out of the time we had!
Day 1 – Lower North of Ubud
Our first day was quite hectic, but we were really glad to be able to see so much! We had planned a driver for the day and asked him to pick us up at 7:15 am in order to be sure to have time to do everything we wanted.
We firstly went to Campuhan ridge walk, where walked a bit and then came back – we didn't do the entire walk as we had many other things to do on this day. The view was beautiful and, since we arrived there at about 8:30 am, it wasn't crowded at all!
We were on the road to the Swing and our driver asked us if we were interested in tasting the Luwak Coffee. Curious as we are, we said yes! It was nice, however you can feel that it's touristic because of the high prices of their products. We experienced a visit and tasting of several kinds of teas and coffees. It was very interesting to learn more about typical balinese luwak coffee. Overall, it was a great experience. We were happy to be able to taste the products and even buy some delicious ginger tea!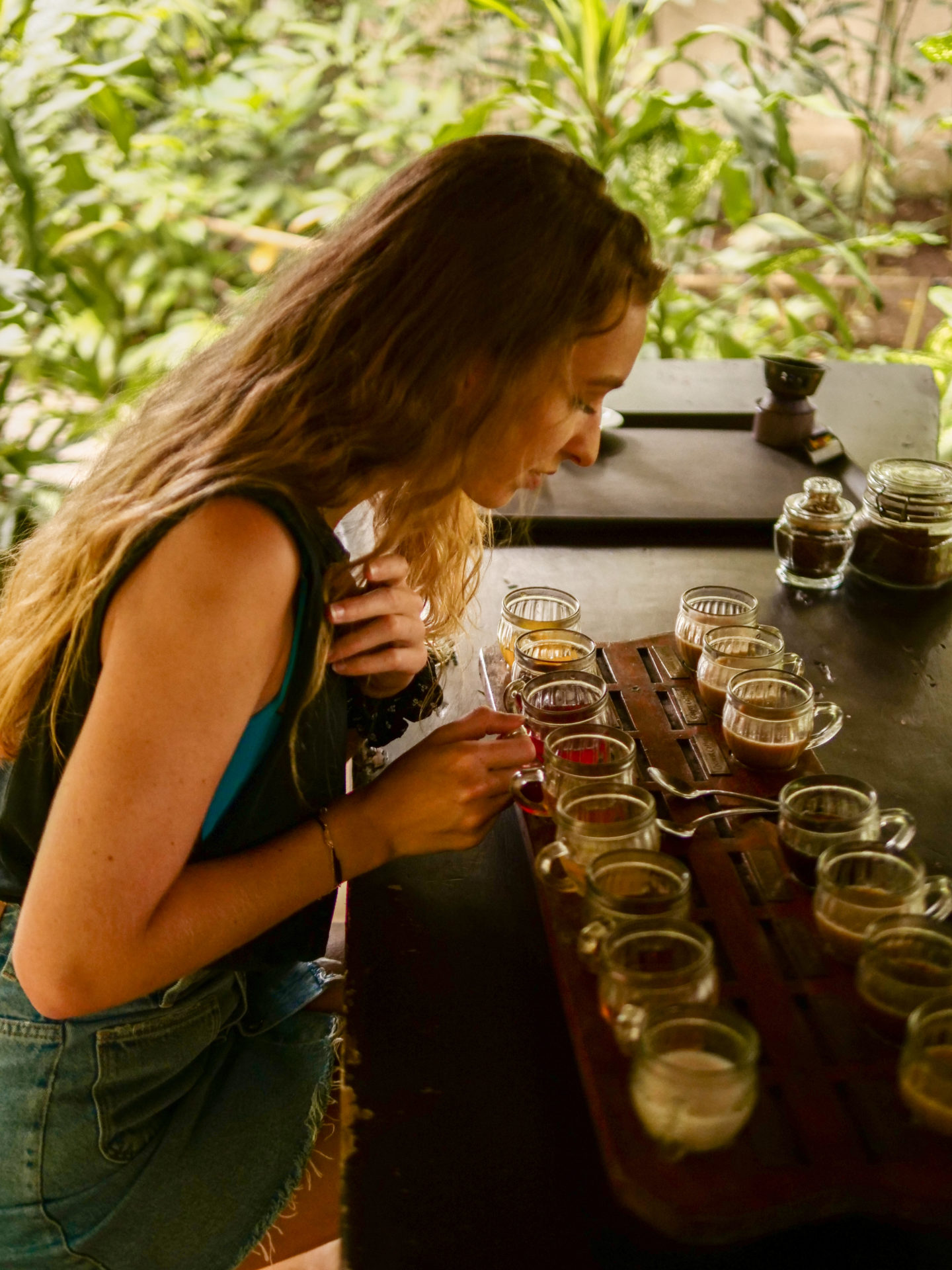 Then we went where you can find Bali swings. Little advice, don't go to the first one you're brought to – I thought there was only a few spots with swings, but I was wrong. Where there was one, there were actually ten! They all offer various prices, so it's worth benchmarking before going to the first one. We went to one giving access to swings, nests and even offering us a lunch. We enjoyed our time on the swing over the jungle and a river – it was so impressive, we loved it! And then had lunch there, with a beautiful view on a forest of palm trees!
Rice terrasses were probably one of the things I loved seeing most in Bali. It's so impressive and exotic! I really enjoyed seing and walking through the Tegallalang rice terrasses. They're absolutely worth seing! I can only recommend you to go there. You can also go to the ones protected by the UNESCO that are more in the North – I didn't go there, but I've heard it's even more impressive!
However, and to be honest, the most beautiful rice terrasses we saw were some small ones we passed in a small village (not a touristic one), on our way to some waterfalls. I can't even tell you where it was, because we randomly passed it. It was a mix between rice terrasses and orange flowers terrasses. Some locals were working in them and the sun was perfectly lightning this scenery. This was the most magical thing I saw in Bali! We didn't stop to take pics, so I can't show you, but that's a memory I know I'll never forget!
After the rice terrasses, we went to the Sacred Monkey Forest. If you follow me on Instagram, you already know and even witnessed me being attacked by a monkey there. I wasn't expecting this at all and panicked when it happened haha. I'm kind of making fun of myself now, but I wasn't laughing on the moment. I shouted so loud!
This being said, the monkeys are really cute to see. However, be careful and mind your stuff (bag, phone, hair, earrings,…). They're curious animals and that curiosity can become a problem when they end up jumping on you or stealing the content of your bag. Despite that, it's a fun experience!
After the Sacred Monkey forest, we walked through Ubud and ended up at the market. It's so nice and there are so many lovely things to buy! I truly loved what I saw in this market, it was much more interesting than in Seminyak in my opinion. Some advice: get ready to bargain!
Post market, we went to a café I had heard of before even going to Bali, the Lazy Cat Café. Don't be mistaken, there's no cats there, but it was adorable! We had juices and pancakes in the middle of the day, both were delicious. I recommend you to go there, even if it's just for an afternoon snack or drink, you'll love it!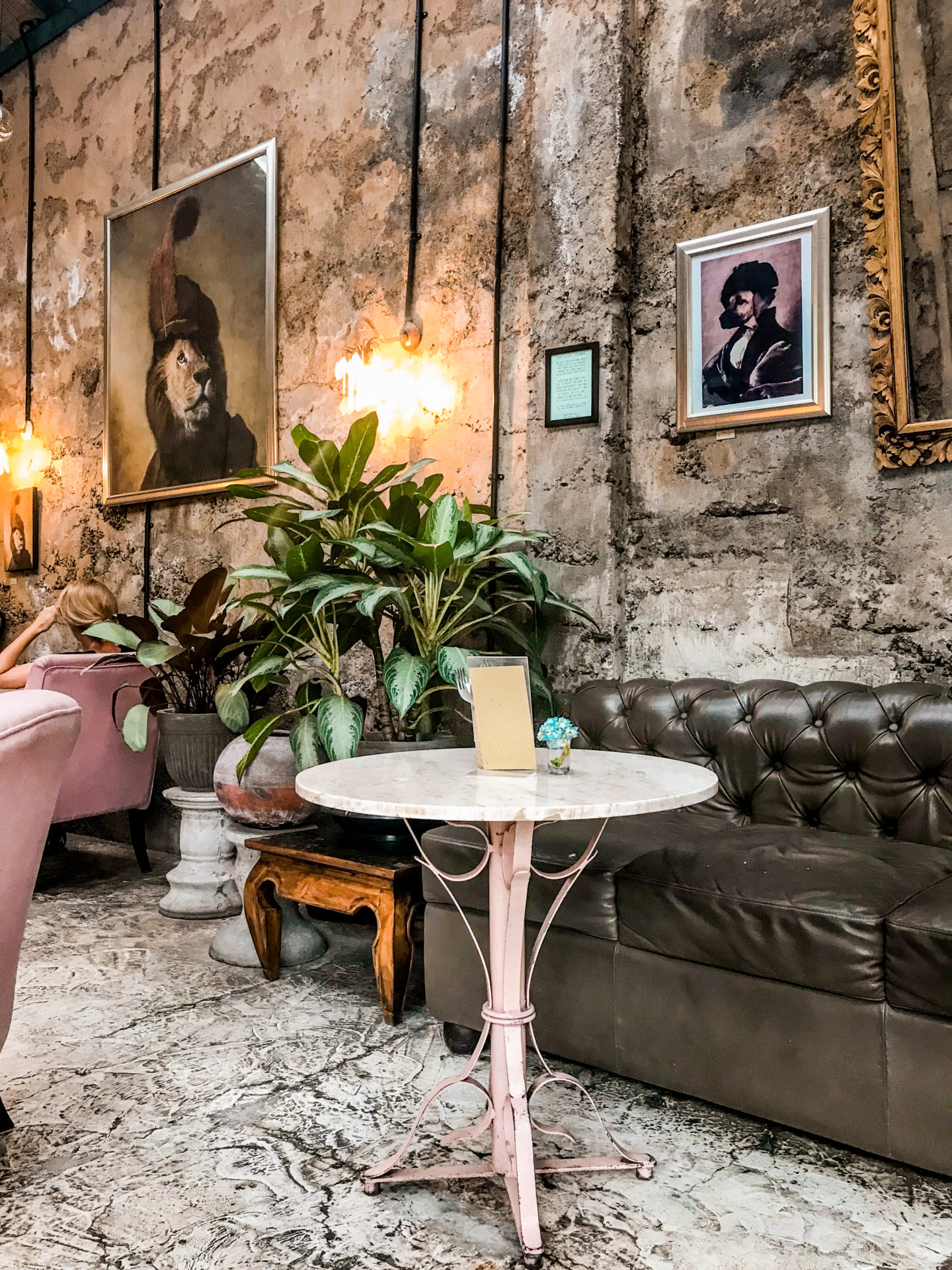 Then we went back to the hotel, lazed a bit and went back up in Ubud for dinner. We ate at Three Monkeys restaurant, took two starters to share, two mains and one dessert. It was so good! The place is also really cool. It may look like there's no one in, but when you actually enter and walk through, you discover a terrasse in the back, which is open on a small field. It was charming!
Day 2 – Middle and lower East of Ubud
We had a lot of friends going to Bali during summer before we went and all of them didn't recommend us to rent a scooter, because of the trafic and way of driving. However, we haphazardly met a friend of Mathew in the middle of Ubud who encouraged us to actually rent one. We obviously changed our minds and wanted to rent one at the end of the first day, but it was too late and everything was closed. We ended up organizing a driver for our second day. Pick up at 7:15 am again, in order to discover as many things as possible.
We started the day at Tukad Melangit Valley Lookout, the less touristic place we went to. We arrived there at about 9:00 am, that may be why we were alone.
There's an incredible view over a jungle of palm trees, it was breathtaking. You should really not miss this place! The road to go there makes you go through small villages that are nice to see too. I wished we had a scooter so that we could have stopped on the way – It's always more difficult with a driver, because you don't want to make him stop every 10 minutes hahah.

Then, we headed to the Lempuyang Temple. People go there because of the very Instagram friendly doors, but the stairs to the prayer site are beautiful and impressive too. Honestly, I wasn't that impressed by the doors, while people queue for hours just to get a pic in the middle. We didn't want to wait, so we found another way to get pics that look almost as good. Aren't we so resourceful?! 😉 We weren't lucky with the weather though. Normally, you can see the volcano right in the middle of the doors and we couldn't. It probably would have been more impressive this way! Other than that, the view you have on the way from the main parking to the entrance of the temple is breathtaking!
We drove further and our driver recommended us Vincent's for lunch. A tofu saté for me, a chicken one for Mathew. I'm not vegan, nor vegetarian, but I wanted to try something different. I guess I would have preferred the chicken saté though, but it was really good! Plus, the terrasse in the back of the restaurant was really cute!
After our yummy lunch, we went to the Blue Lagoon beach. White sand and turquoise water are what you'll find there! It was perfect for a dip. We even saw people snorkeling there, so I guess there are nice fishes to see too. Mind the monkeys though, some live right next to the beach and are as curious as the Monkey Forest ones.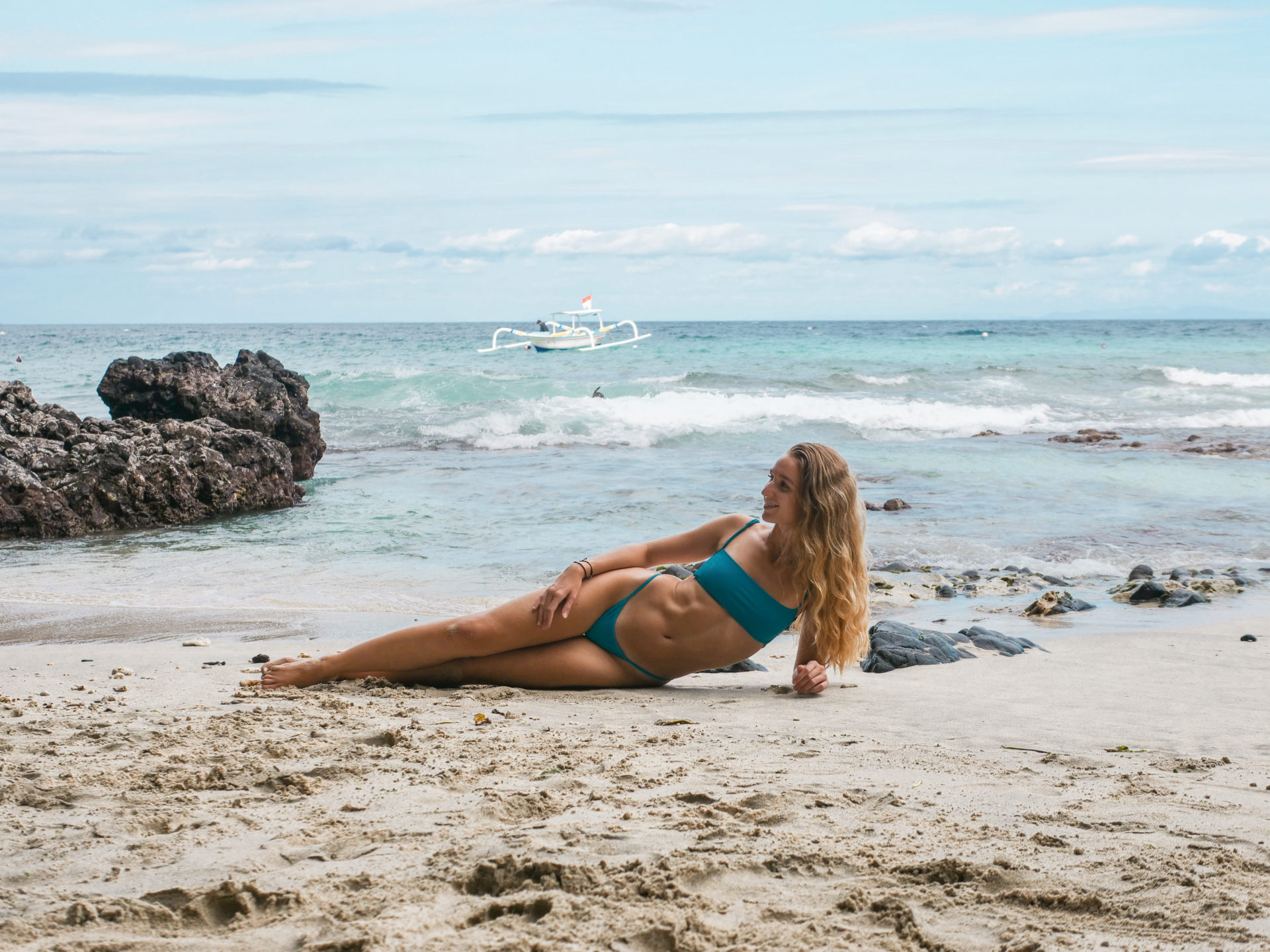 After the blue lagoon beach it was time to go back to Ubud, where we finally rented a scooter. Locals tend not to care about insurance there, but we insisted on renting our scooter in a place where they'll make us sign a "contract", so that we would be covered if we damaged the bike. Also, here's an advice for you: have an international licence. It's Bali, so no one really cares if you do, but it's much better in case you have an accident. Obviously, I recommend you to wear a helmet, even if half of locals don't. And never leave anything valuable in the scooter.
We took our scooter, went to the hotel to refresh ourselves and headed back to Ubud to have dinner. We ate at Pundi Pundi and the food was great! I had saté chicken (I love saté so much!) and Mathew had red curry chicken which was delicious. The place was okay, it's not the nicest we went to though.
Day 3 – Higher North of Ubud
This morning was epic! We didn't want to drive the scooter in the night the previous day since we wanted to get used to it before. But guess what?! We had planned to go see the sunrise in the morning, which means that we obviously had to drive in the dark in the early morning. We weren't genius on this one haha! 
To sum up our ride, we left in the early morning, with a GPS that wasn't clear about the directions. I was trying to keep calm while panicking inside while Mathew was focused on driving and not causing any accident. What an experience!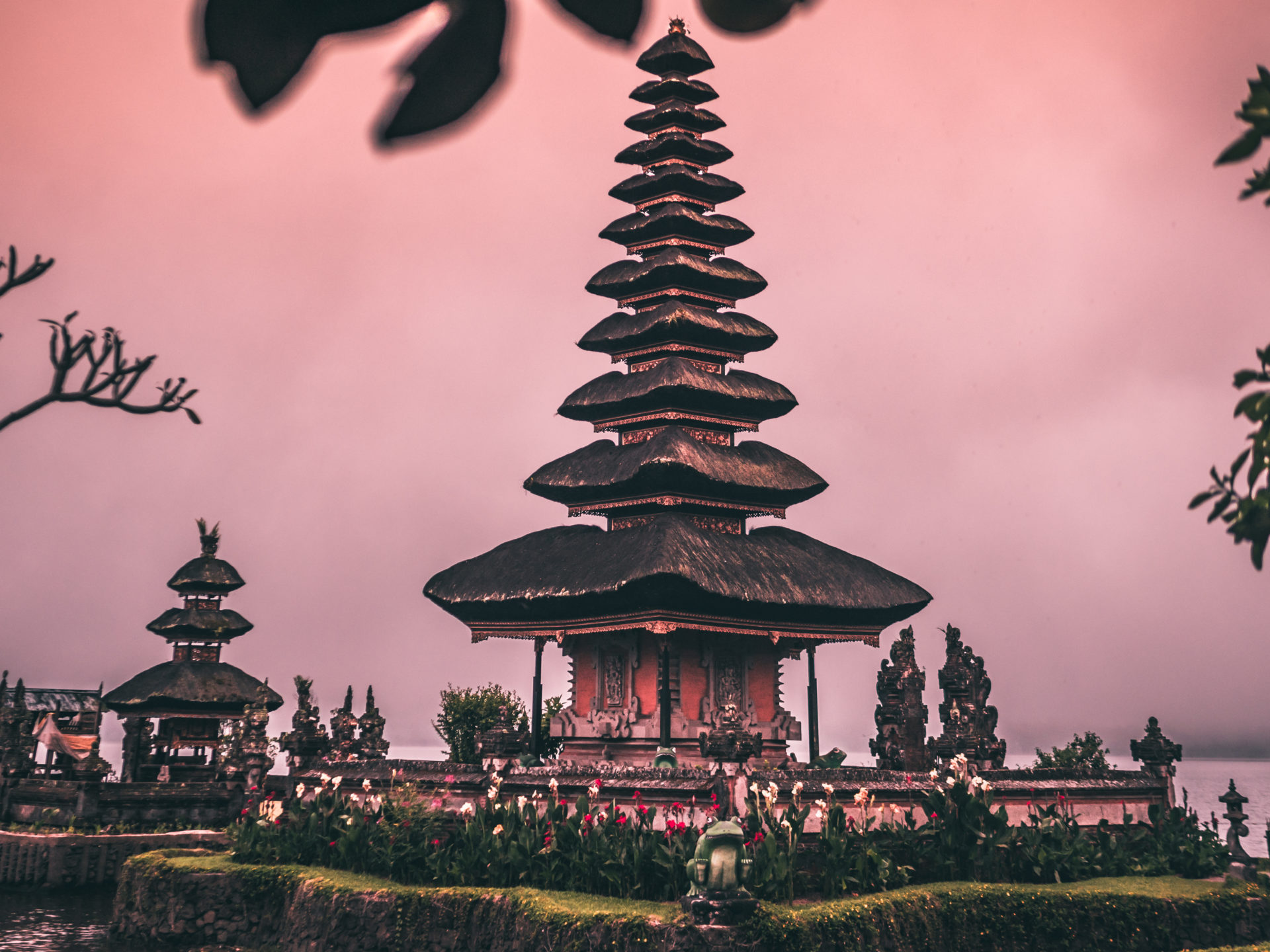 We were on the road at about 4:30 am and arrived at Ulun Danu Beratan for sunrise at about 6:00 am. Unfortunately, the weather wasn't great. It's was so foggy that we couldn't see the sunrise. We were so disappointed! The cool part is that we met a nice guy of our age there. We got on well with him and ended up spending the rest of the day all three together, wandering around Bali.
We followed our new friend to the Handara Golf Entrance doors. It looks a bit like the doors at the Lempuyang Temple, except that it wasn't crowded at all and it gives on mountains, not a volcano. It was really nice to discover this!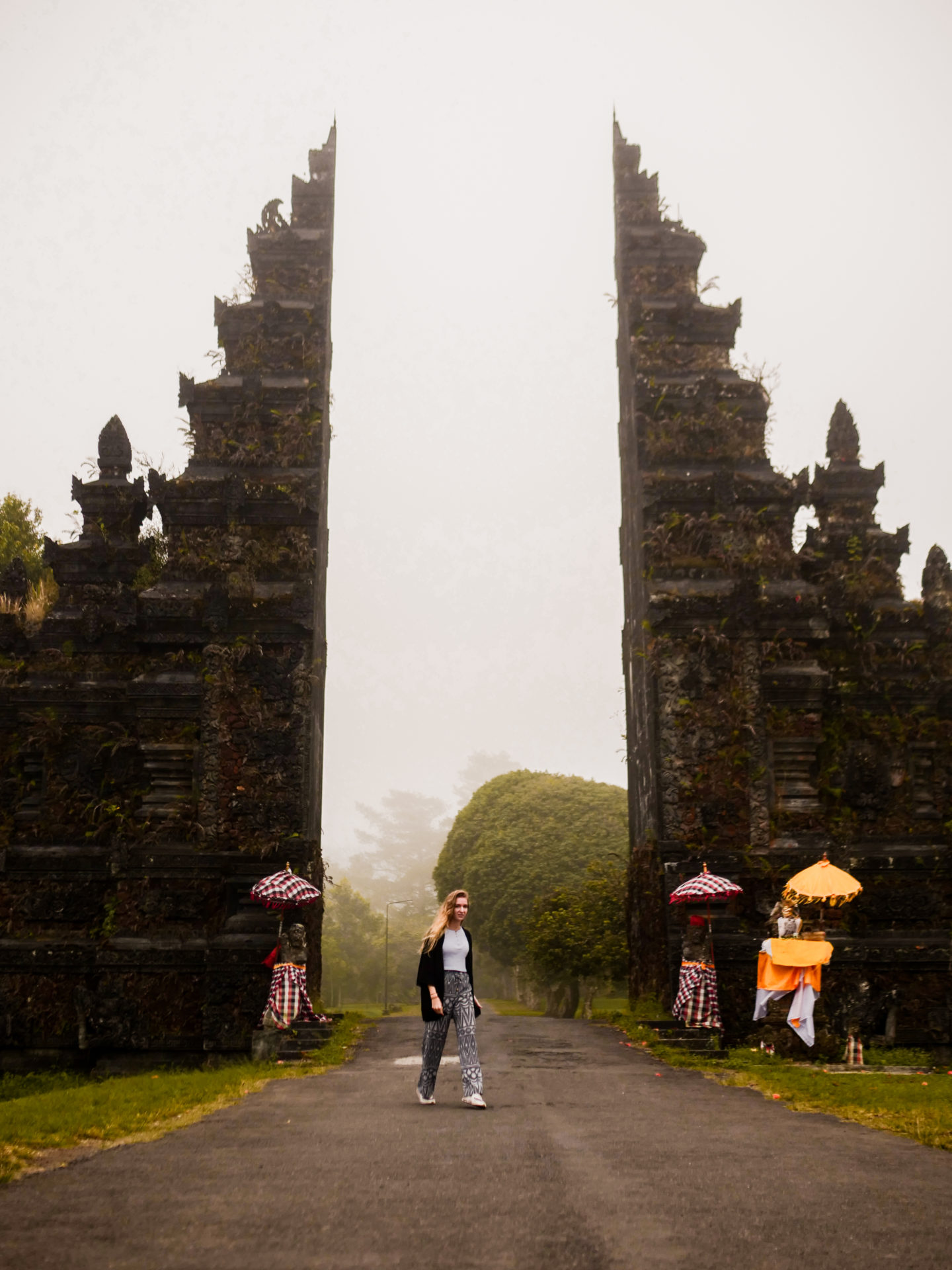 We kept on rolling and stopped on a rising road to admire the Puncak Wanagiri lake. It was beautiful! Once again, mind the monkeys! 
Mathew and I wanted to see some waterfalls when in Bali, but everyone told us they were very touristic, so we were hesitating. Fortunately, our new friend knew a "secret" one (that I'll keep secret) and was kind enough to make us discover it. While we were going to this waterfall, we saw a sign for other waterfalls called Waterfalls Campuhan Antapan and decided to go. (This is on the way to these waterfalls that we saw the most beautiful scenery I was talking about in the rice terrasses section.) We were right to give it a chance, because we saw many incredible sceneries on the way and the waterfalls weren't crowded at all! It was so enjoyable!
It was about noon when we were finished at the waterfalls (the Campuhan Antapan ones and secret ones that I won't unveil). We had seen everything we wanted for the day and were rather tired. Imagine, we were up for almost 8 hours already! It was time for us to go back to the hotel and laze. We ate some snacks and chilled by the pool the entire afternoon. It felt good!
At about 5:00 pm we went back to Ubud village to give the scooter back and eat an ice cream at Gelato Secrets. The ice cream was really good! Then we enjoyed a feet massage, that our feet and legs truly needed haha.
We ended up at Ibu Susu for dinner. It's a small restaurant with an original cooking. We ate too much (as often), but wow it was delicious! This is another one you shouldn't miss!
Day 4 (half day) – Ubud center
This was our last half day in Ubud, so we couldn't wander off. Therefore, we went to Ubud village one last time.
We wanted to see at least one water Temple, so that's what we did by going to Pura Taman Saraswati. It's a really nice one, very symmetrical, with a lot of big light pink lotus flowers. It was beautiful and worth it! Plus, the entrance is free and there wasn't a lot of people at about 9:30 am.
Then it was time for us to switch places! Our transfer pick us up and brought us to our Seminyak hotel. You can read about our stay in Seminyak here!
Love, Pauline